In the Spring Production of 2005, it was: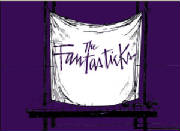 The Fantasticks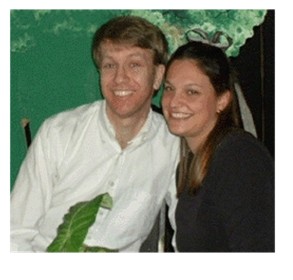 Lead Actor Ken Gagne (Matt) & Actress Bonnie Cuccaro (Luisa)
The Fun of Rehersals!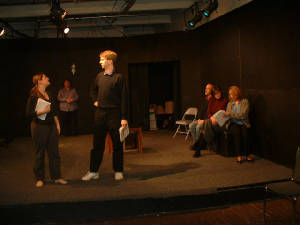 I thought it was Stage door left, it's right?
Matt, Luisa, Hucklebee & Bellamy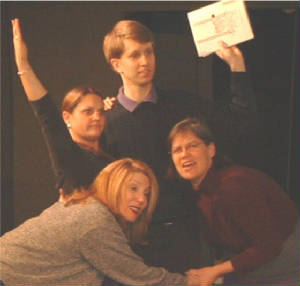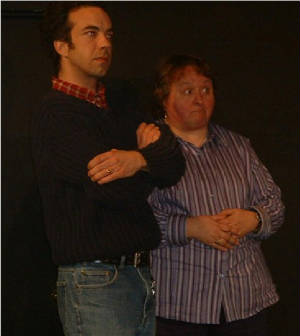 El Gallo (adam) & The Mute (phyllis)
From Rehersal to it's Curtain Call!
yo ho, yo ho, a pirate's life for me...opps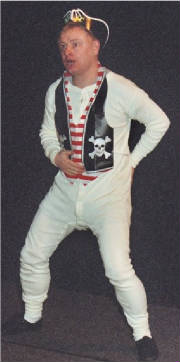 Jeff St. Jean as Mortimer
...wrong show... But, this is Jeff's 4th show with Pickwick Players having played Andreww Rally in I Hate Hamlet, Jim & Duane in Later Life and the EVIL Prince John (Boo Hiss, Boo, Hiss) in The Somewhat True Tale of Robin Hood. Jeff has also performed in 2 productions for K&K Productions in Worcester. This was Jeff's 1st musical in over 12 years. Jeff is also on the Board of Directors for the Pickwick Players.

Fantasticks THEATER REVIEW excerpts from Paul Kolas ; TELEGRAM & GAZETTE REVIEWER
Rating: Not bad
By Tom Jones and Harvey Schmidt, directed by Charles J. Grigaitis Jr. At Pickwick Players Theater Company, Upstage Theater at Alternatives, 54 Douglas Road, Whitinsville. Performances at 8 p.m. Friday and Saturday, 2 p.m. Sunday. Tickets: $12 adults, $10 seniors and children. Call (508)476-1980 for reservations.
With Adam Edwards, Bonnie Cuccaro, Ken Gagne, Phyllis Shea. Karen Fleming-Brooks, Linda Oroszko, James Bronwell and Jeff St. Jean.
WHITINSVILLE— The success or failure of a theater production can be attributed to, among other tenuous factors, how well it is cast. Bearing that in mind, Pickwick Players' presentation of "The Fantasticks" on Friday night, under Charles J. Grigaitis Jr.'s amiable direction, boasted a splendid Adam Edwards as El Gallo, the raffish and irresistible narrator of this downsized variation of "Romeo and Juliet."
If there is one salient reason to go to Whitinsville and see this fragile musical story of two young lovers, Luisa and Matt, who learn some hard truths about the difficulty of sustaining that love, it's to savor Edwards' sweetly playful and almost overpoweringly charismatic performance. There are other good reasons, too, such as Bonnie Cuccaro's Judy Garlandish-tinged Luisa. Cuccaro graces such songs as "Much More" with crystalline clarity. Linda Oroszko is quite good as her scheming mother Bellamy, as is Karen Fleming-Brooks as Matt's mother, Hucklebee.
Normally, these two parts are played by men, but both actresses pull off the gender change with agreeable chemistry on their two numbers together, "Never Say No" and "Plant a Radish," as they mischievously concoct a false feud to unite their contrarian children. James Bronwell is a bombastic delight as Henry, one of the two actors El Gallo employs to stage a faux "abduction" of Luisa and allow Matt to "save" her. And Phyllis Shea says nothing, but does it colorfully as the "Mute."
El Gallo represents the worldly wise and experienced practitioner whose purpose is to first manipulate these two tender hearts together, and then show them a reality check in the second act. Nevertheless, a more naturally emotive Matt might have convinced at least this observer someone with Luisa's zest for life would fall so madly for the boy next door.
Still, there is Edwards' dashing El Gallo to save the day, with his knowing and heartfelt rendition of the signature "Try to Remember," and his comic flourishes with Oroszko, Fleming-Brooks, Bronwell, and Jeff St. Jean as Bronwell's sidekick, Mortimer, a sort of thespian Sancho Panza to Bronwell's Don Quixote.
El Gallo and Henry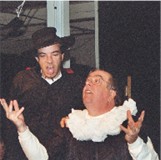 Edwards and Jim Bromwell
To See Brighton Beach Memoirs - select the Blue Hand Below